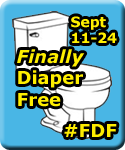 When I was pregnant for my first son, we went diaper bag shopping, and my hubby insisted on getting a manly bag so that when he had to carry it it wouldn't be embarrassing.  So over the last 5 years I have had a few diaper bags, and honestly, I don't think he has ever carried it.  If he has it's been very rare.  It's not because he is a deadbeat or anything, it's just that usually he carries all the boys out to the van, or is carrying a child, and I am carrying the bag.  Otherwise, it's usually me that takes the 3 boys out on my own, so I carry it on my own.  My hubby takes the boys out, but it is usually a quick trip to the store and back if he is on his own.
So when I was really quite down and feeling like my middle son would never potty train, I decided that maybe it was time I found motivation for Mommy.  I had gotten discouraged and given up on training him.  I found Modest Eve, and fell in love with their Mommy bags.
Their Mommy Bags are beautiful bags with personality.  You don't have to be a Mom to buy and enjoy them, but they work great as diaper bags that have style, and Momma looks good using. They started making these bags because the owner Monica needed a 'not so big Big bag'.


I love that the bag is reversible so you can use it either way.  It has two easy access pockets on the 4″ side panel, perfect for keys and cell phone. Also two pockets on the inside of bag on side panel.  It has a removable flower, and a loop and button closure.
I was so excited when they said they would work with me for this event.  I thought one of these awesome bags would be great to help me get motivated to potty train this boy! 
It seems to have worked!  All the pics of the bag, are the one I have!! I love it!! It's beautiful and very well made. Even my hubby is happy for me having a gorgeous bag and only 1 boy to use it for (ok, I still have to use it for middle son a little in case, but not much).  I love that it is a bit padded so it feels nice and sturdy.
On their blog they have patterns you can buy, free patterns, nursing covers, Mom bags, cigar box purses, and so much more.  If you live in their area, they have one-on-one sewing lessons, as well.  I think this would be great if you were in the area because they make beautiful pieces.
BUY IT: Want a cute bag to carry all your stuff, or want to downsize your diaper bag?  Check out their site.
WIN IT: You can win one of these awesome Mommy Bags for yourself!  Remember you don't need to be a Mom to use one, just a lady with great taste, who wants an awesome bag!
================
If viewing this giveaway on the homepage, click below to enter this giveaway!
================
<a href="http://rafl.es/enable-js">You need javascript enabled to see this giveaway</a>.